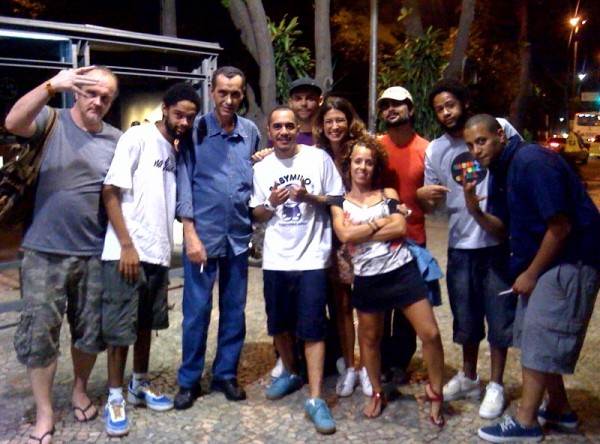 B+, Eric Coleman, Verocai, Debora Pill and friends in Rio.
On a baking midsummer evening in a cinema in Botafogo, Rio de Janeiro, a musician called Arthur Verocai stands in front of a full house and says how he needed a couple of conhaque in his system to face a crowd of people who had just watched the film of a performance of an album that he wrote in 1972. Verocai explains that he made the album at the height of the military dictatorship and was so disenchanted by its commercial failure that he hid his copy, refused to listen to it, and turned to making jingles instead. Thirty years later it was picked up by California's Ubiquity records and hungrily savaged for samples by local producers like MF Doom.
In turn Verocai was invited to perform the album live for the first ever time as part of a project called Timeless, that also includes a concert by Ethiopian jazz maestro Mulatu and a performance of the Suite for Ma Dukes, an orchestral arrangement of the work of the late great J Dilla. Two days later sitting alongside Verocai in the same cinema we watch the LA DJ and turntablist J.Rocc perform a live video mix  of all three films making a video and sound mosaic of awesome proportions.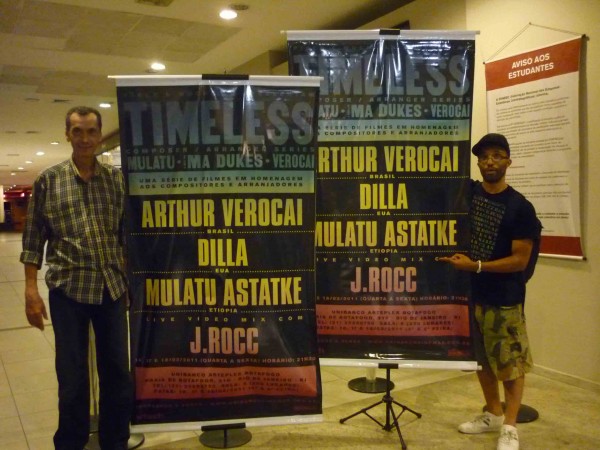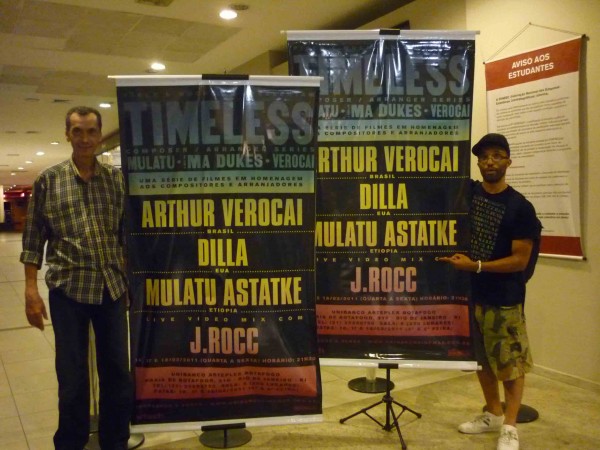 Arthur Verocai and J.Rocc after the show.
This musical and visual feast is called the Timeless project, produced by LA based photographers B+ and Eric Coleman who together founded Mochilla, a collective where photographers artists and editors come together under one roof to produce music films, music DVDs, music CDs, music and photography, video, content and stories that are all music related. Before Timeless, Mochilla invented Keep In Time, a project to bring together some of the original breakbeat drummers with some of the budding new talent in the DJ world.
B+ Explains:
How did Keep in Time come about?
I really wanted to record some of the drummers just to play the beats, but they couldn't remember a lot of them, so rather than do it myself I decided to ask DJs like J Rocc, Babu and others to play these for them. And then it turned into a musical collaboration, which was what we had at the back of our minds, but was something we could only really think about once everyone was in the same room. So what Keep In Time began as, was a document of that moment, then a show, then a film, and then we started a Brazilian version, Brazil In Time in 2002, where we had drummers like Mamão and Wilson das Neves alongside young guns like DJ Nuts.
So the project then is a bit like bridging generations and technologies?
We never really started out thinking about it like that but it developed along those lines, we bridge generations, continents and countries that have like affiliations of music. We try to build bridges between lots of things. We take flights of fancy and ask what would happen if? How cool it would be if? How interesting a conversation it would be if?
What's the Timeless project?
Timeless is an extension of all of that. There was a bunch of us sitting in a room and we wondered what would be the ultimate music festival, for the music that we like. What if we had Cut Chemist and Quantic opening for Mulatu? MF Doom for Artur Verocai? Or Snoop Dog with Axelrod? When we sat down to draw the list together we realised that a lot of the people we saw were composer arrangers, which is a weird position in music because their names aren't on the music, they're not spotlighted people and a lot of times their name won't even be on the front of the record. And it was a series of concerts that we did in LA and filmed and recorded really, really well and made into a series. We try to imagine what the institutional landscape would be like for curating music if hip hop was the central thematic.
THANK YOU MOCHILLA